In today's digital landscape, cyber threats loom large, and organizations must be prepared to face them head-on. It's no longer a question of if an attack will happen, but when. The key lies in building cyber resilience and a robust response strategy. This approach gives organizations the capability and connectivity to transition from wargaming to gameday, and efficiently overcome the impact of these unpredictable attacks.
Recent headline-grabbing cyber incidents have reminded us that no one is immune to cyber threats. It's time to embrace this reality and focus on fortifying response strategies.
In this blog, we'll dive into the world of iluminr Playbooks and uncover how its adaptive response capabilities empower organizations to weather the storm of cyber-attacks, while keeping their operations running smoothly.
Streamlined Management: Unleash Your Inner Resilience Coach
When it comes to maintaining cyber resilience, effectively managing response protocols and actions on gameday can make all the difference. With iluminr's adaptive Playbooks, resilience coaches can effortlessly create, merge, edit, filter, and enhance Cyber Response Playbooks, transforming themselves into champions of resilience. This empowers them to optimize resource allocation, freeing up valuable time and attention to address other critical aspects of their resilience program.
Enhanced Customization: Your Playbook, Your Rules
With iluminr Playbooks, Resilience coaches hold the power to customize cyber response strategies like never before. Coaches can tailor playbooks to match the organization's unique requirements, team dynamics, and various attack scenarios. They can craft playbooks for specific roles, multiple teams, targeted threat types, and severity ratings. This personalized approach ensures that cybersecurity responses are precise, effective, and perfectly aligned with organizational objectives.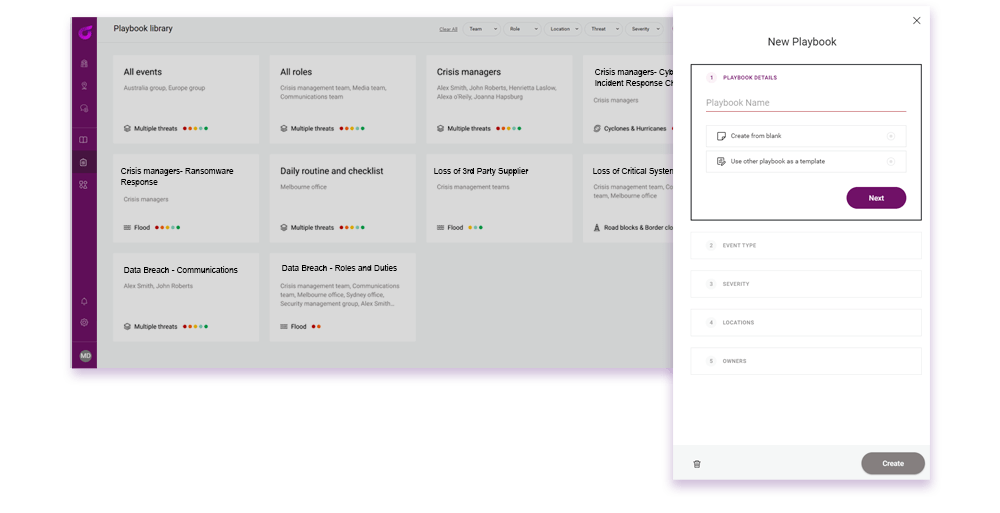 Improved Collaboration: Unite and Conquer
Say goodbye to silos and hello to seamless collaboration! Break down barriers, unite forces, and empower your inner resilience coach to lead the charge in fostering teamwork among diverse teams. iluminr Playbooks create a collaborative ecosystem where multiple teams can access and leverage the same playbook templates, ensuring consistency in response strategies and facilitating cross-functional communication.
Enhanced Efficiency: Your Guide in the Cyber Maze
Through a rich library of pre-built cyber response playbooks, Resilience coaches can lead team members through the incident response process with confidence. These playbooks become the trusted compasses, providing step-by-step guidance, handy checklists, and recommended actions. No more second-guessing in the chaotic aftermath of a disruption. Reduce response times, prioritize actions, and allocate resources effectively. With streamlined guidance and consistent response strategies, resilience coaches can elevate the overall response efficiency on game day, leaving cyber disruptions in the dust.
Now is the time to unleash your inner resilience coach and build a powerful cyber response strategy that ensures your organization emerges stronger than ever.
Get ready to strengthen your cyber resilience with iluminr Playbooks. Log into your account, or book a demo to get started with iluminr Playbooks.
Author:
Michelle Doan
Director of Marketing